Old Manse, Monreagh | Carrigans, County Donegal, Ireland | +353 (0)74 9140708 | office@monreagh.net 
---
Monreagh (Ulster Scots – Scots Irish) Heritage Centre
Monreagh Heritage Centre is the only visitor attraction of its type in Ireland. Visitors will learn about the history of the Ulster Scots who settled in County Donegal during, what came to be known as, the Plantation of Ulster.
The Home of Ulster Scots - Scots Irish Culture in Donegal
Open All Year | Monday to Friday 10am - 4pm | Weekends by Arrangement
The only Visitor Centre of its type in Ireland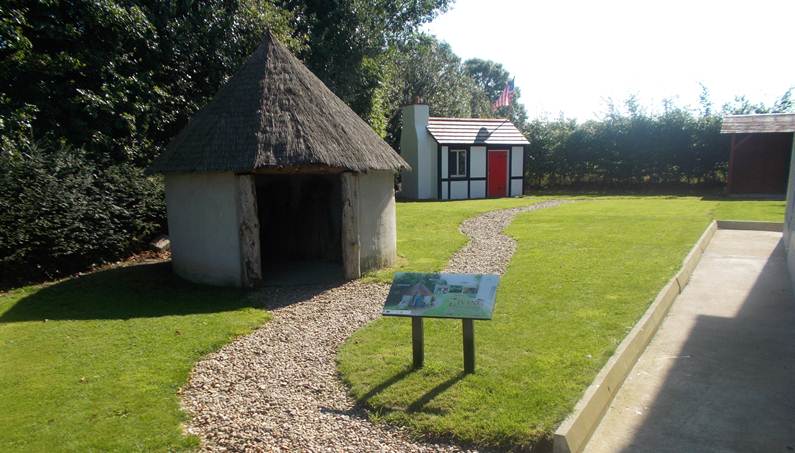 Sitting opposite a Presbyterian Church whose congregation was established in 1644, the centre contains a wealth of information from the Plantation of Ulster to the inauguration of many US Presidents of Ulster-Scots descent including Andrew Jackson and Woodrow Wilson.
Housed within a beautifully restored manse, each room of the heritage centre focuses on a specific era of Ulster-Scots and Scots Irish history through which the visitor can gain an unparalleled insight into the cultural, economic and social impact that this region has had on the world today.
As part of a self guided tour, visitors to the Centre can view a rarely seen collection of original photographs, paintings and other memorabilia. A selection of local historical records are also available to help visitors trace their family tree.
The Centre  hosts regular music, culture and history events as well as a 'Living History' schools' programme.
Discover Donegal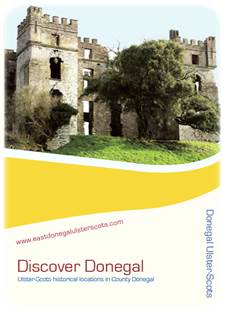 You will find some of the most important sites and people of Ulster Scots history in this 40 page guide to Donegal. It was here that the first Scots lived and worked when they arrived in Ulster. Many important events took place in Donegal that influenced and shaped our history.
FREE DOWNLOAD
Family History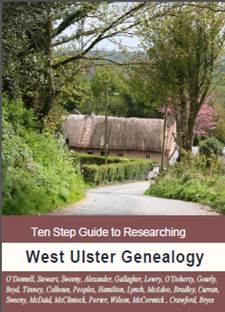 The purpose of this booklet is to provide a simple step by step guide for those who wish to research their ancestry in West Ulster in the Nineteenth and Twentieth Centuries. It concentrates on sources available both locally and on the internet, with occasional reference to sources available nationally. The information contained herein is equally valid and applicable to all creeds and denominations.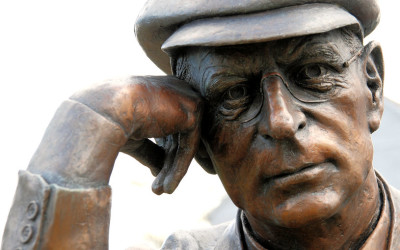 Tuesday 15 March, 7pm – 9pm Old School House Monreagh The story of Harry Ferguson, his tractors, implements and hydraulic system One invention more then any other revolutionised tractors and changed the face of agriculture in the 20th century the three-point... read more
400 Years of Scottish Settlement in the Laggan
The Words, Music, Dance, Industries, Traditions
Like Us on Facebook
Our popular Facebook Page has up to date news about the happenings and events at Monreagh. Enjoy regular posts concerning the people and times of the Lagan
Check out our Monreagh YouTube Channel
Our Monreagh Youtube Channel has over 100 videos highlighting the history, characters, events and happenings of the Laggan area of Donegal and beyond. You can enjoy interviews with local historians, view an event at Monreagh, or listen to what some of our visitors from home and abroad have to say about their visit to Monreagh.
Why Not Pay Us a Visit
The Centre attracts visitors locally, regionally, nationally and internationally. Its the ideal location for study visits from school, colleges, universities and societies
Great place to go with a lot of great stuff inside documenting the Ulster Scots here in Ireland. I am a genealogist and I came to learn more about why my people came here and why they left for America. I was given a lot of good information."
Jim and Cindy | Texas, USA
My fifth great Grandfather was the Reverend Jospeh Rhea who was minister of Fahan Church from the 1740s to 1769. He went to Philadelphia with his family  in 1769 and became minister of a church in Ta(r)ney Town, Maryland.
Flora Gammon | North Carolina, USA
Average rating:
104 reviews
Jun 21, 2016
So grateful for all your research, assistance and interest in my Allen ancestry - and the birthday cake! Thank you Samantha & Keith!
Jun 14, 2016
Fantastic displays and a great source of information and our past.
May 26, 2016
What a wonderful experience! Many thanks!