The Old Manse, Monreagh, Carrigans, County Donegal
T: +353 (0)74 9140708 | E: office@monreagh.net
MONREAGH HERITAGE CENTRE
Monreagh nestles in a scenic rural setting in the Laggan district of East Donegal, about one mile from Carrigans Village. Visitors can explore the history of the seventeenth century Scottish settlers and their voyages to 'New World' America.
---
THE JEWEL OF THE LAGGAN
Monreagh Heritage Centre is housed within a beautifully restored Victorian manse, with spectacular views of the lowlands of East Donegal. It is just a fifteen-minute drive from the historic city of Derry-Londonderry, and approximately 20 minutes from Letterkenny   Each room of the former manse focuses on a particular aspect of Ulster-Scots and Scots-Irish history. This allows visitors to gain a unique insight into the contributions that people from the Laggan region have made to industry and politics, particularly in the United States of America and Canada.
AMERICAN CONNECTIONS
Many former United States presidents and industrialists have ancestral connections with the area, most noteworthily Presidents James Buchanan and James K. Polk. During the 17th and 18th century, many people immigrated from this region to 'New World' America.
FAMILY HISTORY
As part of a self-guided tour, visitors can view a rarely seen collection of original photographs, paintings, and other memorabilia. A selection of local historical records is also available which helps visitors to trace their family history. A few yards from the Visitor Center is a seventeenth century Scottish Church that was established in 1644. A congregation still worships there to the present day.
REGULAR EVENTS
The Centre hosts regular music, cultural and industrial events, as well as a 'Living History' schools' projects.
Our Visitors Have Their Say…
Great place to go with a lot of great stuff inside documenting the Ulster Scots here in Ireland. I am a genealogist and I came to learn more about why my people came here and why they left for America. I was given a lot of good information."
Jim and Cindy, Texas, United States
I discovered a lot about my ancestors. My fifth great Grandfather was the Reverend Jospeh Rhea who was minister of Fahan Church from the 1740s to 1769. He went to Philadelphia with his family  in 1769 and became minister of a church in Maryland.
Flora Gammon, North Carolina, USA
I really enjoyed my visit and found the tour very very interesting. I will be recommending my family and friends to come along and visit. Very impressed. Thank you so much.
Sean Fleming, County Meath, Ireland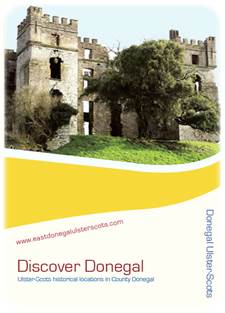 DISCOVER DONEGAL
You will find some of the most important sites and people of Ulster Scots history in this 40 page guide to Donegal. It was here that the first Scots lived and worked when they arrived in Ulster.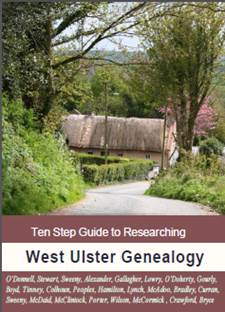 FAMILY
HISTORY
The purpose of this booklet is to provide a simple step
by step guide for those who wish to research their ancestry in West Ulster in the
Nineteenth and Twentieth Centuries.